Get Book In 3 Steps
Tell Us About You
We love storytelling. Tell us about your exciting journey of being a beauty artist by signing up through our website. It's FREE 😉
Prepare Your Masterpieces
Build your portfolio to showcase your best work. Don't forget to learn how to make your work glow before it ✨
Say Hi To Your First Client
We'll send you an invitation to access the App once we've got to know you better. Next, ta-da! "You've got your first booking!".
We got you covered — to keep you focus on doing what you love: celebrating beauty. Leave the boring stuff to us. Hassle-free is the mission here!
Say Bye to Admin Stuff
No more time-consuming tasks
We automate all the admin tasks, from getting discovered to receiving payment. This way, you can focus on what matters.
Smart calendar
Your calendar will be blocked automatically when you get booked. No chance for double-booking or any other human errors to happen.
Customer support
Answering queries about your appointment and resolving issues are our things. So, now you can do what you love in peace.
No hassle is our favorite word. Even for payment.
We make sure you'll always get paid on time. You receive the payment instantly after you finish your Blusherie time. Say goodbye to sending payment reminders or get paid on D+'we never know'.
Your Digital Manager
All in one place
All your beauty schedules are put together in one place. No need to switch between two calendars to keep your schedule straight (as long as you sync your agenda regularly 😉).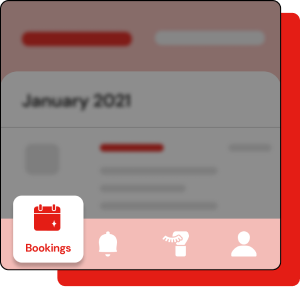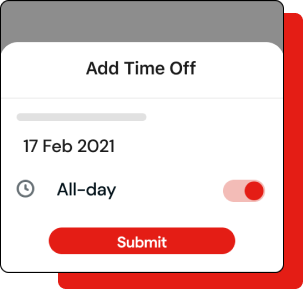 Set your working time online
You're the #BOSS! So, set your working time freely. You get to meet your pretty clients when you're available. If you want to have a self-care day, just turn off the calendar whenever you like. And most importantly, you do it online!
Get Job Reminder
We're also your an automated reminder machine ⏰ We send you an appointment reminder 24 hours before your Blusherie time. It's like having a personal manager, but free. Who doesn't love it?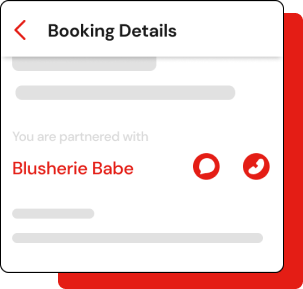 Matchmaking
We know it's hard to find beauty partners. So here, if you're a Makeup Artist, you'll be automatically be partnered with an amazing Hair Stylist when a client ask for your service with hair do 💞
Connected and get booked anytime
Connect you with amazing clients
With the hassle-free Blusherie App, clients can easily discover and connect with you anytime, anywhere. Booking your services will never be the same.
You don't need operational hours to get booked
Clients can book you even when you're busy hanging out with your friends. No more missed opportunities because of slow responses!
Stylish marketing
Keep clients coming back is our goal. We stay in touch with them via our personalised email marketing, social media promotion, and well, with Blusherie, you're basically everywhere.